Endless music in your space


Our music application gives to professionals the convenience and freedom to enjoy and manage music in their own space.
Target audience
MykonosDJ application is ideal for businesses, restaurants, cafes, hotels, taverns, hairdressers and for all places where music is considered essential.
Why choose MykonosDJ;
It offers to your customers the maximum enjoyment of your services, through pleasing music.
Our music lists are created by experienced music editors and are categorized so as to meet the most demanding needs.
Login to web player
Are you a subscriber; Login to web player!
Download 'MykonosDJ Player Shortcut' and just run it.
When done, MykonosDJ Player shortcut will be created on your desktop.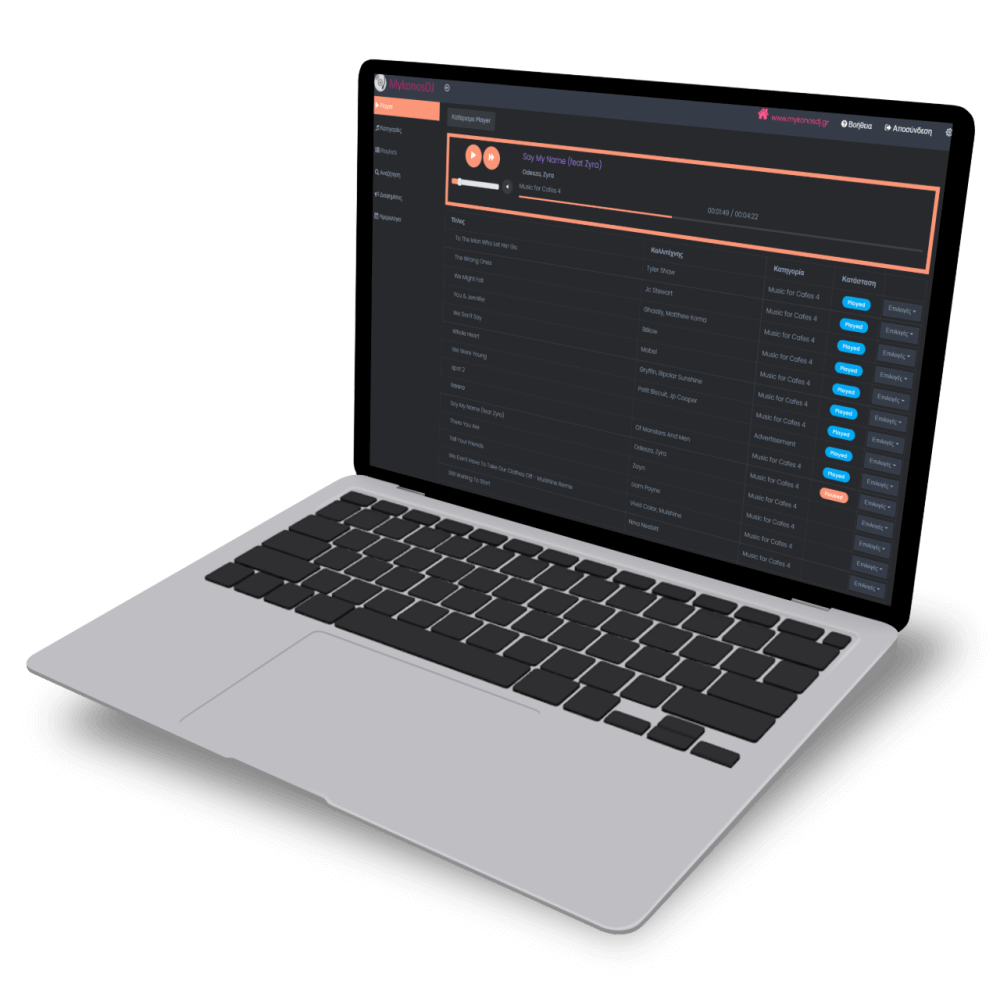 Download player app
Download player app in your pc now!
With MykonosDj app you can have all the features provided by MykonosDJ web player and additionly you can download and play your favorite music offline.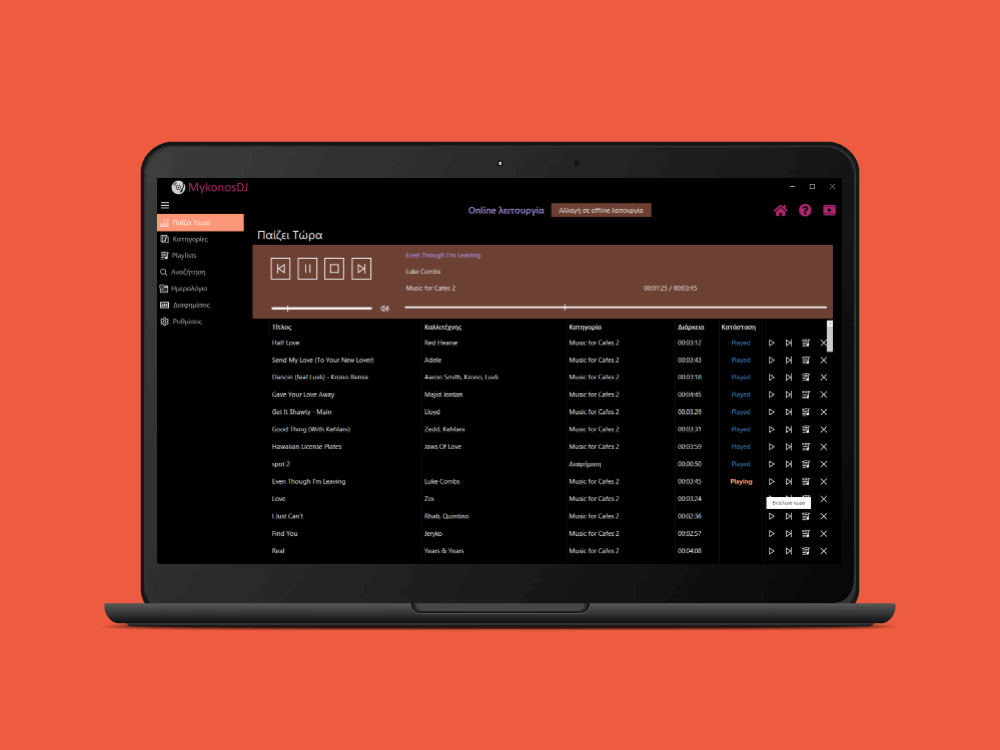 MUSIC GENRES
Choose the music genre that suits you among dozens of genres in greek and foreign songs
ΑΚΟΥΣΤΙΚΑ
ΧΑΜΗΛΟ ΤΕΜΠΟ
ΜΟΝΤΕΡΝΑ ΛΑΙΚΑ
ΡΟΥΜΠΕΣ
ΤΣΙΦΤΕΤΕΛΙΑ
ΠΟΠ
ΕΝΤΕΧΝΑ
ΛΑΙΚΑ
ΛΑΙΚΑ ΕΛΑΦΡΙΑ
ΕΛΑΦΡΙΑ ΠΑΛΙΑ
ΡΕΜΠΕΤΙΚΑ
ΖΕΜΠΕΚΙΚΑ
ΧΑΣΑΠΙΚΑ
ΝΗΣΙΩΤΙΚΑ
ΔΗΜΟΤΙΚΑ
JAZZY SWING (ΕΛΛΗΝΙΚΕΣ ΔΙΑΣΚΕΥΕΣ)
ΤΟΥΡΙΣΤΙΚΑ (ZORBAS SIRTAKI)
MYKONOSDJ FLAVORS
COSMOPOLITAN MUSIC
MUSIC FOR CAFES
ALL DAY COFFE MUSIC
JAZZY CHILL LOUNGE
CAFE BAR JAZZ
CAFE DEL MAR
SMOOTH JAZZ
LOUNGE
CHILLOUT
BOSSA-COVERS
BOSSA NOVA
ROMANTIC DINNER
RETRO SLOW/UP
LATIN SOFT
LATIN DANCE
REGGAE
VINTAGE REGGAE CAFE
ALTERNATIVE ROCK
ROCK BALLADS
ROCK CLASSIC
POP 80S
DANCE 80S
FUNKY SOUL
TOP HITS 2023
POP MUSIC
DANCE MUSIC
GREEK DJS DANCE
CHILL HOUSE
SOULFULL HOUSE
DEEP HOUSE
ETHNIK HOUSE
BEACH BAR MUSIC
DEEP VOCAL CHILL
AFRO HOUSE
TECH HOUSE
NU DISCO
ITALO DISCO
R&B-HIP-HOP
DJ-SETS
FEATURES
Playlists
Ability to create custom playlists fast and easily.
Unlimited Music Genres
Select the music genres that fit to you and your place. With the click of a button you can see all the songs in the selected music genre.
Shuffling
Every time you choose to listen to one or more genres, the player plays the songs in a different order even if you play the same genre every day.
Contant updates
Our music genres are update with new songs in a daily base.
Support
Continuous support 24 hours a day.
Copyright
MykonosDJ has been granted the non-exclusive license to reproduce phonograms and to present them to the public via internet.
Non stop music
MykonosDJ application can play non stop music. Just click play and enjoy the music.
Smooth transition of songs
Song shifts are done with fade-in and fade-out allowing a smooth transition from a song to the next one.
Compatibility
MykonosDJ application is compatible with all versions of modern browsers that support html5. You do not have to install any software, just login to your account and listen to music.
Responsive user interface
The user interface and design of MykonosDJ application adapts to all screens making it ideal for all devices such as PCs, tablets and mobiles.
Sound quality
Sound quality is excellent (mp3/320 Kbps) that is comparable to CD quality.
SUBSCRIPTION PLANS
We provide flexible subscription plans that meet all needs
All music genres
Endless music
Create playlists


Contact us for details


Efficient cost and subscription duration

* Each account is strictly personal and can only be used by one user.
CONTACT US
Contact us for more information about MykonosDJ application.